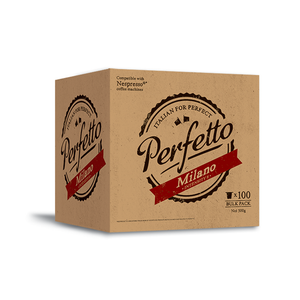 Enjoy a moment of indulgence with Perfetto Nespresso®* Compatible Coffee Pods (Milano). The soothing honeyed undertones, balanced by mild acidity, create a well-rounded, bright taste at an Intensity 8.
Perfetto Coffee Pods are made using the highest-quality beans which are roasted and packed locally to ensure fresh and flavoursome coffee.
* Not compatible with the Nespresso®* Vertuo or Nespresso®* Vertuo plus range. For details, check our compatibility page.
Happiness. Fun. Smile
WE TURN YOUR BORING COFFEE MACHINE INTO
SOMETHING FUN FOR THE WHOLE FAMILY!
Everyone is at their best when they are happy. For this reason, everything we do is intended to bring happiness, fun and a smile to your face.
Start your morning happy and alert with our 'Double Shot' coffee pods containing natural guarana extract from the rainforests of Brazil. You'll be having too much fun to notice the afternoon slump with our 'Baileys' coffee pods, infused with the sumptuous character of Baileys™ Original Irish Cream. Then in the evening let our rich and creamy milk chocolate range of pods bring a smile to your face as you think about and appreciate the wonderful day you just had. What could be better than all this?
How about free fast shipping, a money back promise and joining our fun and coffee loving community who have given us over 2,000 5-star reviews!