Product of the Year!
That's right, over 14,000 Australian consumers voted...
And your favorite everyday indulgence our Baileys™ coffee pods placed No. 1 for the coffee category!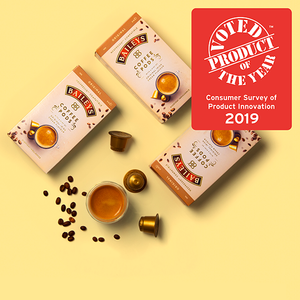 Some info about Toby, the guy who started this thing.
Here are 5 interesting facts you may not know about me...
I failed school.
After leaving school I started a business and ran it for 5 years without taking a wage (working a night job to pay rent).
I was the first person in Australia to launch Nespresso® Originalline* compatible coffee pods back in 2012.
The pod business took off, starting as an importer with one employee, we are now a manufacturer and coffee roaster employing more than 30 people.
Want Free Pods?
Take a selfie or capture your favourite pod moment and email it tohello@expresspods.com.au
or post it to social media and tag any of the following #ExpressPods #BaileysCoffeePods #PodistaPods
IF WE RE-POST IT… YOU GET FREE PODS!