Welcome To Our Cyber Monday Sale!
You know those people who always seem to find the best bargains? Congratulations - you're now officially one of those people.





With the world's best value coffee pods and 15% off all full-priced pods, you can have expensive taste and live lavishly on a low budget!



Use the code CYBERMONDAY20 at checkout for 15% off all full-priced pods.



Bulk Pods is automatically discounted - check it out below!
Bulk Pods - AKA The World's Best Value Coffee Pods!
Introducing Bulk Pods, the name that says it all!
We fill each box with a whopping 500 pods and deliver them straight to your door for a crazy low price of $124.99. Quick math, that's only 25c per pod! If there was a Guinness World Record for the world's most affordable coffee pods, we would have smashed it.
Yes these pods are low on price, but that doesn't mean they're low on taste. With an intensity rating of 10, this coffee blend is deliciously strong yet smooth, making it perfect for a latte, cappuccino or flat white.

Now for the fun part. As parents, we thought about all the times we've bought something for ourselves, only for our kids to demand we buy them something too. Oh, how mean and unfair it would be to have a box delivered with nothing but coffee for us parents!
An idea struck us. Remember entertaining yourself with those activities on the back of cereal boxes? There was so much creativity in how packaging could be turned into something fun, and it was a lot more eco-friendly than most toys these days.
Rather than shipping these pods in a boring old box, we designed a box that can be upcycled into a robot head. Your kids get hours of entertainment with some old fashioned fun, and you get to enjoy some peace and quiet with your coffee. Win-win!
Hit the 'Shop Now' button to visit our Bulk Pods product page. Our shopping process is super easy and you can checkout using Credit Card, PayPal or AfterPay.
Once we receive your order, we will process it within one business day. If you live in a metro area, you automatically qualify for free standard shipping (only $5 for country areas). Once delivered by Australia Post, our pods will impress you, your friends and your family. But if for any reason you are not happy, we will give you your money back.
Go forth and have your coffee fix without breaking the bank!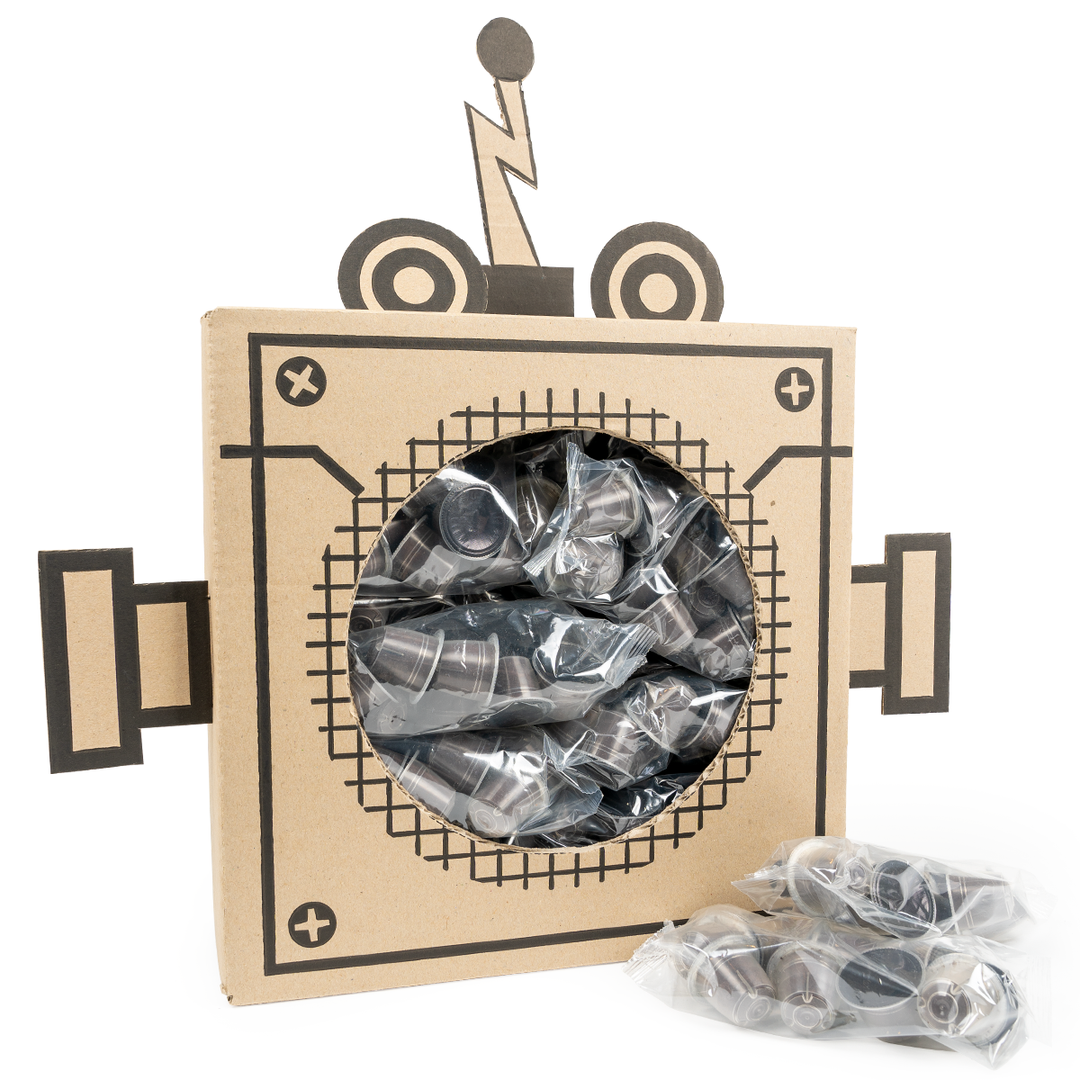 SHOP NOW for only $124.99!
500 pods per box, packed in pouches of 10.
Compatible with Nespresso®* OriginalLine machines.
Happiness guaranteed or your money back.
*Not compatible with the Nespresso Vertuo or Nespresso Vertuo plus range. For details, check our compatibility page.
No further discounts, wholesale or free express shipping upgrade available on this product.
We make damn good coffee! Just ask Rachel F. who posted the below in Instagram...
"Perfect afternoon treat! Tastes and smells delicious!"

You can find more posts from happy customers by searching any of these hashtags on Instagram...
#BaileysCoffeePods  #ExpressPods  #PodistaPods
Did we mention the 'happy or money back promise'? Can't remember. It's not a big deal because no one ever uses it, but it's still there to give you piece of mind.
Time to celebrate now? Yes it is! 😉
What people are saying about us...
Very impressed!! Pods are delicious! Shipping was super fast next day delivery 📦 Only company to make hot chocolate pods 👌🏻 ( that I could find anyway ) And love the quirky little messages on the parcel too 😝😝
Delighted - 10/10! The delivery time was good, the coffee is delicious. The communication from Express Pods was excellent and there was a surprise treat in the box! Plus the tips for making good coffee were really helpful.
OMG 😮 Delicious. Every coffee, chocolate, baileys pod has been perfect already choosing my next flavours.
Great service and product, beyond exceptional. Other companies should take a leaf out of their book. X
Need more info?
Please feel free to call us during business hours on
1800 370 656 or email us anytime at hello@expresspods.com.au.
We're here to help 😊