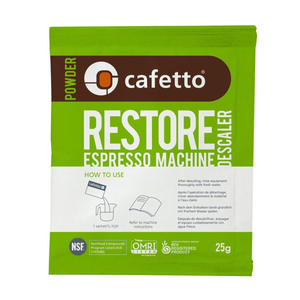 A safe and effective powder descaler for removing hard water scale from espresso machine boilers, Coffee Pods Machines, coffee and milk delivery lines.
Contains a synergistic blend of organic acids that give outstanding scale removal.
Restore is registered by Biological Farmers of Australia (BFA) as an allowed input in organic systems and is certified by the Organic Materials Review Institute (OMRI). Restore is free from phosphate and Genetically Modified Organisms.
The ingredients and formulation of the products that are NSF certified are safe, leave no harmful residues and do not cause corrosion within the coffee machine. Safe to use on aluminium, brass and stainless steel.
All ingredients are all rapidly biodegradable meeting international standards.
Each 25g sachet makes up one litre of descaling solution.
Happiness. Fun. Smile
WE TURN YOUR BORING COFFEE MACHINE INTO
SOMETHING FUN FOR THE WHOLE FAMILY!
Everyone is at their best when they are happy. For this reason, everything we do is intended to bring happiness, fun and a smile to your face.
Start your morning happy and alert with our 'Double Shot' coffee pods containing natural guarana extract from the rainforests of Brazil. You'll be having too much fun to notice the afternoon slump with our 'Baileys' coffee pods, infused with the sumptuous character of Baileys™ Original Irish Cream. Then in the evening let our rich and creamy milk chocolate range of pods bring a smile to your face as you think about and appreciate the wonderful day you just had. What could be better than all this?
How about free fast shipping, a money back promise and joining our fun and coffee loving community who have given us over 2,000 5-star reviews!